Our Impact – Use of Funds
We distribute our donations to breast cancer non-profits that help us directly impact patients.  Our breast cancer foundation helps cover daily expenses and services not normally covered by insurance.  Read more about the impact we make by partnering with these amazing Breast Cancer Allies.
100% NET PROCEEDS GO TO THE FOUNDATION
BREAST CANCER GIFTS
---
Buy tutus, t-shirts, and other breast cancer gifts at our store, and know that the net proceeds are being used by our Foundation. Our tutus come in different colors and come in a wonderful gift bag that can be used year-round.
COUNTLESS WAYS TO HELP BREAST CANCER PATIENTS
Start Fundraising, Dare2Tutu, Art Therapy.
---
Let's work together! Are you a person that can drive others to act? Then come check out the ways that we can work together to fundraise, volunteer or send some cheer to breast cancer patients when they need it most.
BALLERINA BOB IS HERE TO HELP!
NO TUTU? NO PROBLEM!
---
Not ready to "be like Bob?" No problem! Donate & download our templates and have some fun by taking pictures with "Ballerina Bob" in fun and creative ways! This is the easiest way to raise awareness in your own special way while making a difference. Donations can be any amount over $3.00 – you decide!
TOGETHER WE CAN REDUCE THE STRESS THAT GOES ALONG WITH A BREAST CANCER DIAGNOSIS
---
Remember, the more we raise together, the more our non-profit GIVES towards funding services that insurance doesn't cover for men and women with breast cancer.
News From Around The Web
We've corralled living with breast cancer stories and recent articles that might be helpful from around the web. Get educated, inspired or heck, just use us our blog as a good way to pass the time.
WYCKOFF, N.J. —Dozens of players from the Torpedoes Soccer Club recently raised more than $1,200 for breast cancer research and treatment.
Players on the club's 35 teams purchased the pink socks and are wearing them during games this month, Breast Cancer Awareness Month.
The club raised $1,280, said Brian Weis, a club board member.
The money will be donated to Susan G. Komen, previously the Susan G. Komen Foundation, a national nonprofit dedicated to helping breast cancer patients and their families.
It is the second year the club has sold the socks; more than $2,000 was donated last year when the club sold 375 pairs of socks.
Send local news tips, photos, and press releases to daniel.hubbard@patch.com. Get Patch breaking news alerts sent right to your phone with our new app. Download here.
Some of the Torpedoes Soccer Club presenting a ceremonial check for $1,280 to Gina Fernicola from Susan G. Komen. — Photo courtesy of Brian Weis
This article was originally published at the "Article" source noted above and distributed by The Tutu Project for informational purposes only.
October is Breast Cancer Awareness month and in honor of that, we are highlighting some of the latest breakthroughs in the cancer research all thanks to the many donations made throughout the world. Breast cancer is important because it affects so many and scientists are constantly doing research to cure this disease.
Researching habits and genes

The studies focus on figuring out what habits and lifestyle choices affect the onset of breast cancer in addition to the gene related causes. Studies are examining factors such as weight, diet, and exercise in relation to how they influence breast cancer. Furthermore, explorations of gene variations are examined to figure out if there are certain people who are more likely to get the disease.
Reducing the effectiveness of breast cancer
A number of solutions are already being looked at to reduce the severity of breast cancer, which includes hormone therapy. Tamoxifen and raloxifene are two drugs that have already been approved to help reduce the severity of breast cancer, but there is still unease about any side effects. Some studies have examined dietary supplements such as vitamins B6 and B12, omega 3 fatty acids, folate, and grapeseed extract to help once someone has been diagnosed with breast cancer.
Other latest developments
Molecular breast imaging, or otherwise known as Scintimammography, involves the injection of a tracer drug that's slightly radioactive and a special camera is used for detection. It's a technique that can potentially help locate breast cancer early on. However, for those who have already been diagnosed, Oncoplastic surgery is a procedure that's available while the cancer is still in its early stages. However, the side effects of the surgery are that the sizes and/or the shape of the breast may be altered.
It is great seeing how donations are furthering the treatment for breast cancer. See how All Year Cooling is giving back by "going pink" and donating a portion of every AC installation to Breast Cancer Awareness here.
This article was originally published at the "Article" source noted above and distributed by The Tutu Project for informational purposes only.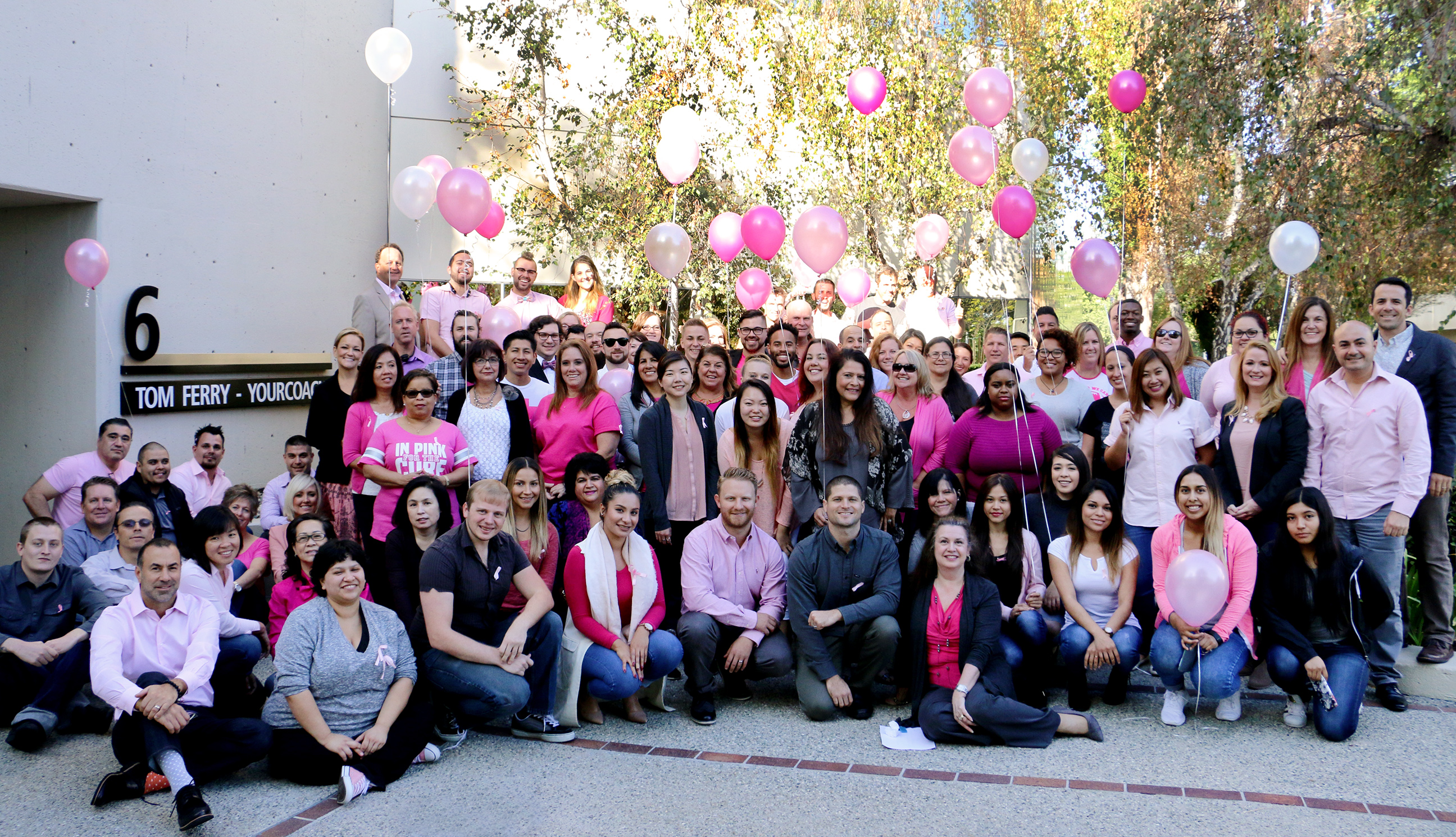 Tom Ferry – Your Coach is proud to support breast cancer research and honor Breast Cancer Awareness Month.
During Success Summit, a t-shirt drive was held to raise money for breast cancer research.
We are pleased to announce our donations totaled $84,000, which will be donated to the Breast Cancer Research Foundation and UC Irvine Health.
UC Irvine Health, a facility that is home to one of only 47 National Cancer Institute-designated comprehensive cancer centers in the United States, received a $20,000 donation. Under the leadership of Dr. Alice Police and the Pacific Breast Care Center team, UC Irvine Health has researched and created new innovations to help treat those with breast cancer.
"Tom and Kathy Ferry's philanthropic support means so much to my program" said Dr. Alice Police, Breast Surgical Oncologist at UCI Health. "With their gift, my team can continue research that will have a direct impact on patient care, and improving quality of life."
The Breast Cancer Research Foundation (BCRF), the world's largest private funder of breast cancer research, and the highest-rated breast cancer organization in the U.S. received a $64,000 donation.
"We are grateful for supporters like Tom and Kathy Ferry who fuel our mission to fund critical research," said Myra Biblowit, CEO and president of BCRF. "Each year the generosity of partners brings us closer to achieving a future without breast cancer."
Check out this great video from Summit and thanks again for helping us support breast cancer research!
This article was originally published at the "Article" source noted above and distributed by The Tutu Project for informational purposes only.